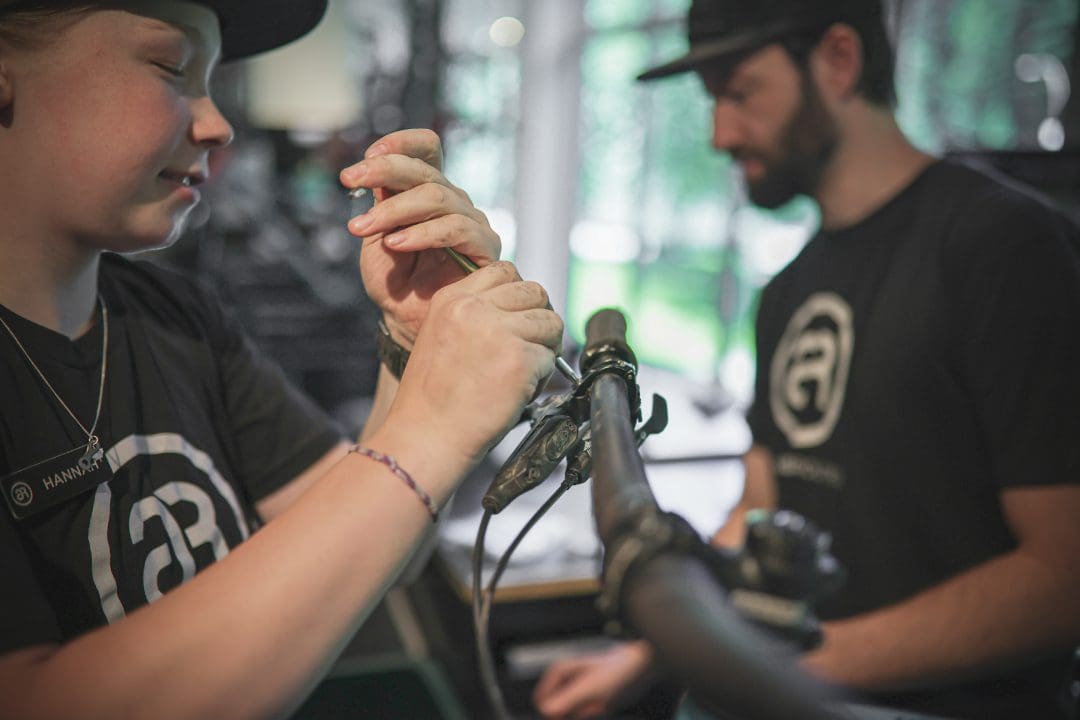 Back by popular demand, our Ladies Bike Maintenance Sessions, are designed for female riders that would love to gain a better understanding of their bike for quick fixes and ensure a proper setup of their own bikes. If you would like, we also offer sessions for all riders. You can find more information on these here.
We have three sessions that focus on different topics and all are taught by our female staff at our bike shop. Each small group session is hosted at Arbutus Routes utilizing the tools and bike stands in the workshop. Be sure to bring your own bikes for the 'Set Up Your Ride Session' and the 'Safety Check Session'.
The group sessions will be led by our staff and are designed to encourage group involvement and learning in a professional workshop. Also included in the package below is a surprise gift from our partners. Sign up for one, two, or all three of the sessions. Join the fun and we look forward to seeing you there!
Weekly group sessions.
Group sessions are held weekly for three consecutive weeks.
Same instructors with small groups each session. Book Now! 
Monday nights from 6:00pm to 7:30pm
3 sessions total, 1 session every 2 weeks
Join a group of up to 8 ladies
Choose 1 or more sessions:
Who are these sessions suited for?
Female riders that would love to gain a better understanding of their bikes so they don't have to rely on others.
The Price:
1 Session: $40 (Choose 1 out of the 3 sessions)
2 Sessions: $60 (Choose 2 out of the 3 sessions)
3 Sessions: $70
Multi-session discounting will be applied manually by our staff when checking in for your first session, just ask!
The Sessions:
Set up your ride – TBC Fall 2023
Goal: Adjust your bike to your body, and set up the sag on your suspensions. Get to know your bike and its components
We Cover: Bike fitting and fundamental components knowledge.
Safety Check – TBC Fall 2023
Goal: Maintain your bike to prevent parts from wearing out prematurely. Being able to know when it's time for a visit to the bike doctor.
We Cover: Pre-ride checks, Safety Checks, and Basic maintenance.
Wilderness Survival – TBC Fall 2023
Goal: Learn how to save your and your friends day out on the trail!
We Cover: basic skills to have on the trails, a tube change, tire plugs, braking a chain, changing a valve core…