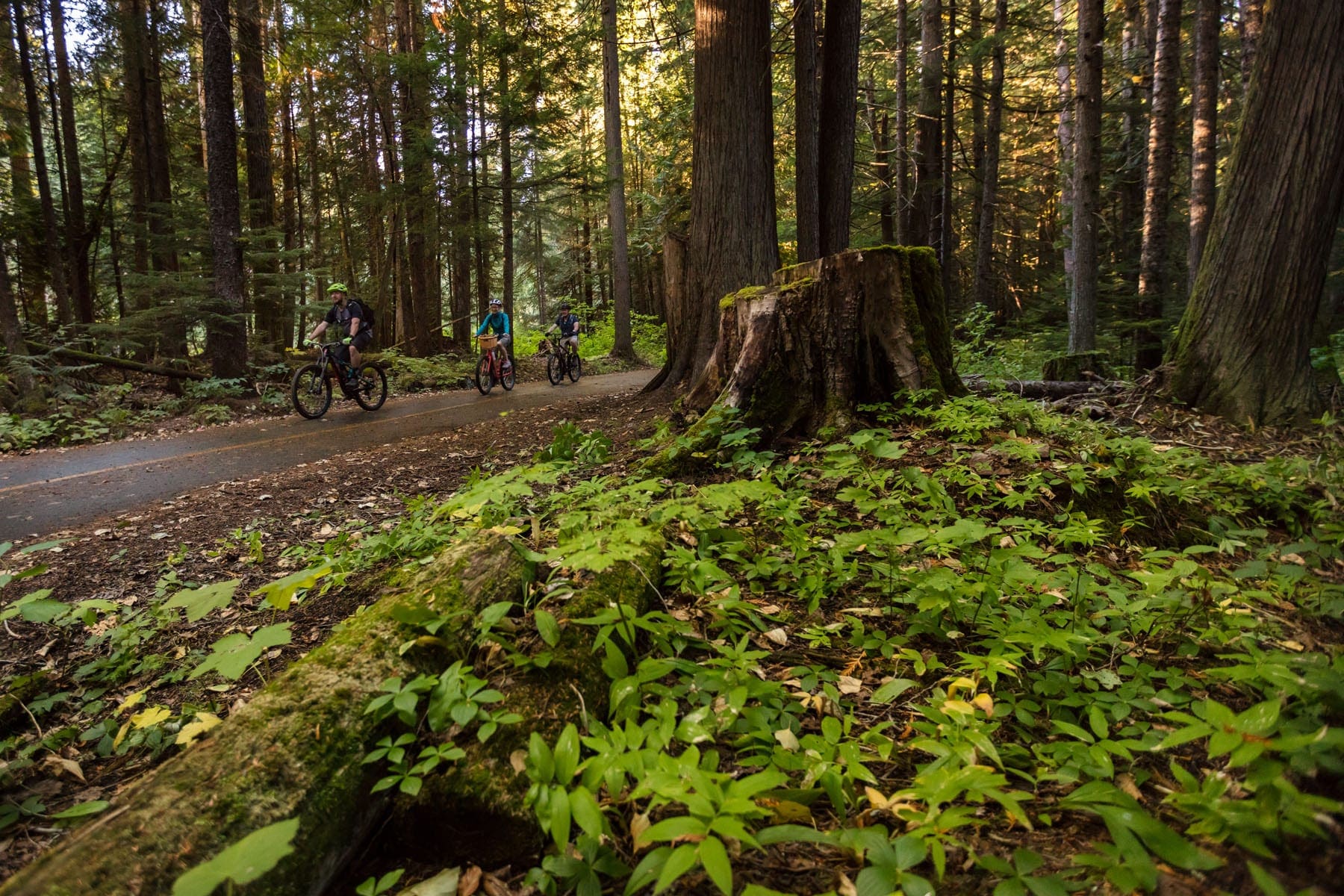 Discover our Whistler Electric Bike Tour and roll the smooth trails around Lost, Green and Alta lakes. The Whistler Electric Bike tour is a great option for those wanting a relaxing ride and to explore further using the electric assist. You will explore the expanse of the Whistler valley trail system; Take in the pristine parks and forests; as well as visiting a few of the locals secret spots along the way.
Our tours are led by professional and experienced guides – therefore ensuring you get the ultimate Whistler biking experience. You'll have an exclusive and customized experience with our small group sizes, with the tour route taking in the mesmerizing views of the Whistler area. Your guides will stop often to point out, and interpret, the natural elements along the routes.
The Specialized Como e-bikes feature the latest generation integrated motors, resulting in a smooth and effortless ride. In addition, the upright sitting position gives a comfortable ride straight away. Our guides will also provide a full safety orientation for all riders unfamiliar with electric bike technology.
Minimum age of 16 for any participant on an ebike
Whistler Scenic E-Bike Tour Pricing
4+ Guest Rate
2-3 Guest Rate
1 Guest Rate
Guide Only - Halfday
2.5hr Tour Length
$-
$-
$-
Guide Only - Fullday
5hr Tour Length
$-
$-
$-
Guide & Rental - Halfday
2.5hr Tour Length
$130
$165
$225
Guide & Rental - Fullday
5hr Tour Length
$165
$225
$335
Accidental Damage Protection - Tours
Accidents happen. Ride worry free with our Accidental Damage Protection (ADP) included in your tour price.
This protection will cover your bike for any accidental damage incurred during your rental.
Private Groups
All our tours are set up Private by default. It is just your group riding together to ensure we match up abilities and interest.
This way we can craft a ride to match your skill and fitness level to make the absolute most of your riding experience.
Certified Guides
All of our guides are professional MTB skills coaches, having undertaken training in the industry standard Professional Mountain Bike Instructors (PMBI) as well as advanced first-aid training.
With these industry leading qualifications we ensure our coaches deliver a much more effective program of skills based training and proper trail progression during your tour.