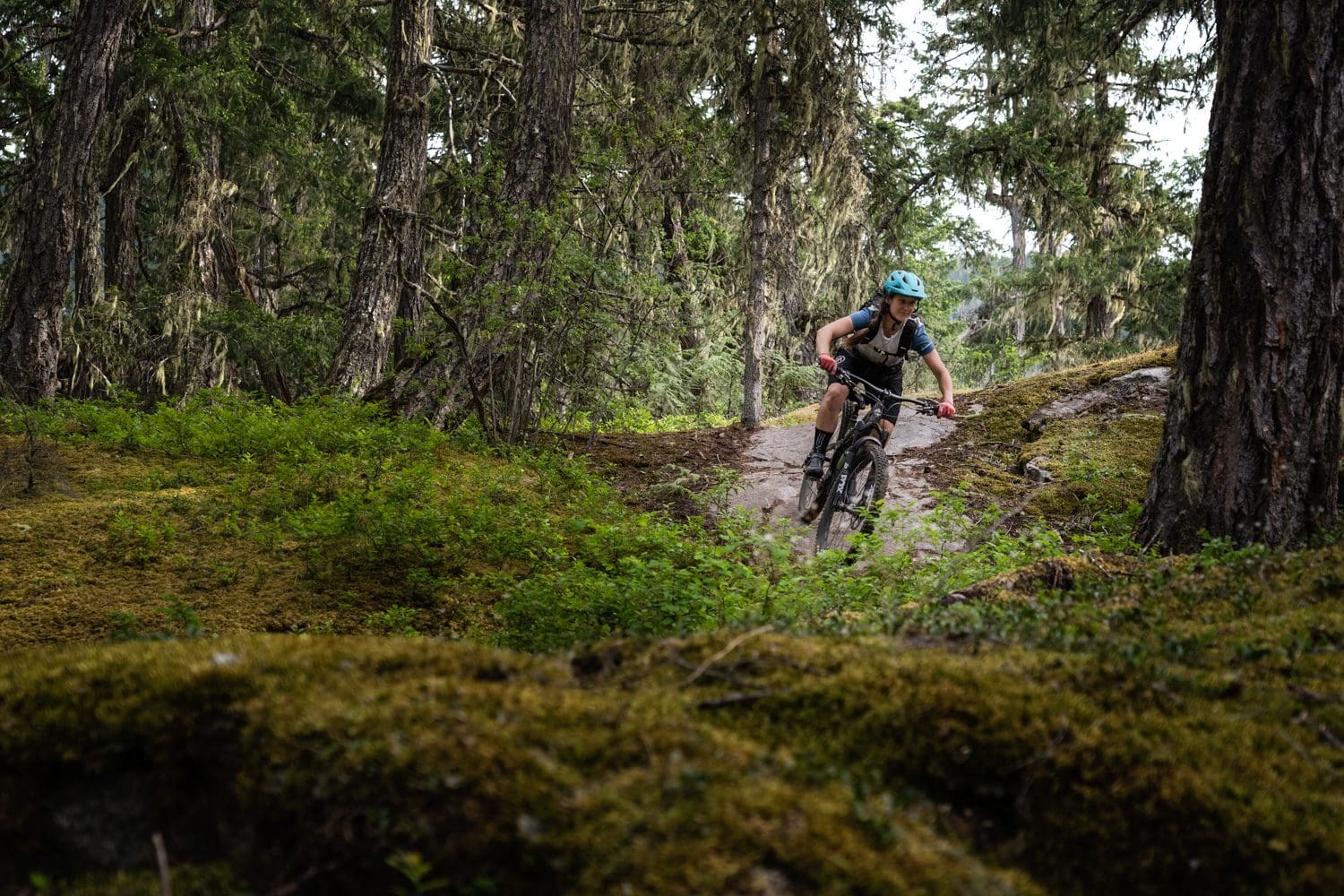 RIDE WORLD-CLASS SINGLETRACK with our Whistler singletrack mountain bike tour.
Let our local certified bike guides show you the vast network of singletrack that makes Whistler North America's premier mountain bike destination. Explore the best trails in Whistler with our professional bike guides so that you can make the absolute most of your Whistler riding trip.
Our guided rides start from our full service bike shop enabling a professional bike setup and access to any riding product you may need. Our Guides are certified through the Professional Mountain Biking Instructors Association and we carry all the necessary permits.
The Singletrack Mountain Bike Tour is customized to your riding level and fitness. The ride can be XC, Trail or Enduro style as it's what you want it to be. Our guides plan out the ride with your input for an amazing day of mountain biking that is tailored to your preference. The Whistler Singletrack Mountain Bike Tour is available as both a half day, full day or part of a multi-day package.
Whistler Singletrack Pricing
4+ Guest Rate
2-3 Guest Rate
1 Guest Rate
Guide Only - Halfday
3hr Tour Length
$115
$150
$230
Guide Only - Fullday
6hr Tour Length
$145
$195
$320
Guide & Rental - Halfday
3hr Tour Length
$180
$225
$290
Guide & Rental - Fullday
6hr Tour Length
$225
$285
$395
Singletrack Tours Include
High Performance Dual Suspension Trail bike rental.
Helmet
Arbutus Routes Water Bottle
Energy Bar
Private Groups
All our tours are set up Private by default. It is just your group riding together to ensure we match up abilities and interest.
This way we can craft a ride to match your skill and fitness level to make the absolute most of your riding experience.

2% For The Trails
Our Whistler Singletrack donates 2% towards trail maintenance. Check out 2% for the Trails.
This funding goes directly back into the trails that we ride and love.
We created this initiative in 2018 and are proud to see the positive impact each year.
Certified Guides
All of our guides are professional MTB skills coaches, having undertaken training in the industry standard Professional Mountain Bike Instructors (PMBI) as well as advanced first-aid training.
With these industry leading qualifications we ensure our coaches deliver a much more effective program of skills based training and proper trail progression during your tour.