Whistler is an iconic mountain bike destination and one that gets better every year. Whistler is also known for challenging terrain and events like the Enduro World Series and Crankworx.
But where does that leave beginner mountain bikers in Whistler?
Can beginner riders actually have fun mountain biking in Whistler and not be scared of risking injury? You bet. This guide is designed to encourage more beginner mountain biking in Whistler and prevent people from being scared away by the reputation of the trails in this region.
Beginner Mountain Biking in the Whistler Bike Park
When most people think of mountain biking in Whistler the first thing that pops to mind is the famous Whistler Bike Park. The Bike Park continues to expand each season with new trails and features.
There is an unbelievable amount of video out there from the Whistler Bike Park as well as countless features in mountain bike magazines over the years. The video and images that are generally shown are those of riders doing whips on Crabapple Hits, soaring down A-Line or hitting a big drop on a tech trail.
Furthermore, when you are at the base of the Bike Park you look up at the 'Boneyard', which is generally filled with large features and jumps for the Red Bull Joyride event at Crankworx.
This is all very daunting for a new rider coming to Whistler but the truth is this doesn't tell the whole story of biking in Whistler. There is very much a place for beginner mountain bike riders of all abilities in Whistler.
There are a good number of beginner mountain bike trails in the Whistler Bike Park such as:
Easy Does It
Del Boca Vista
ROD and TODD
The beginner network is expanding each year, which is great news. Just make sure you don't get led into a more advanced trail by someone who says "don't worry it's fine" as you don't want to jump into the deep end right away. Research the options available for professional mountain biking lessons in Whistler because that is the safest way to enjoy the Whistler Bike Park.
For further details on all the trails in the Whistler Bike Park check out their website. For information on beginner mountain bike lessons in the Whistler Bike Park, check out our guiding packages or send us a message with your questions.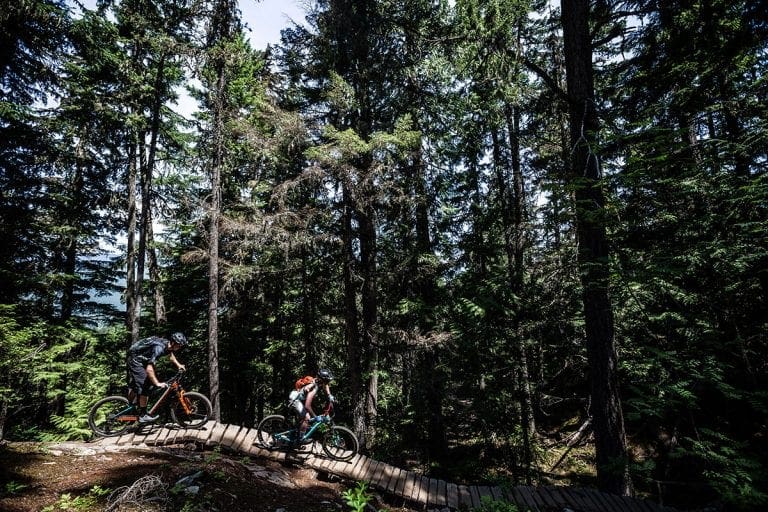 Beginner Mountain Biking on the Whistler Valley Singletrack
Riding in Whistler is much more than just the Whistler Bike Park. We have an incredibly vast trail network throughout the Whistler Valley and beyond..
These trails don't have a chairlift, so you have to ascend with your own power but you will be well rewarded with great descents, views and the peace that awaits in the forest. The Whistler trail network covers the entire valley and is very well connected by beginner bike trails.
So, no matter where you are staying, you can access trails close by and you don't need to drive anywhere. This is such a great bonus because you do not have to load your bike into your vehicle and drive to a trailhead. Whistler is a giant trailhead in itself!
Information for Beginner Mountain Bikers in Whistler
Bike shops are a great source for trail information when you are a beginner mountain biker in Whistler. The absolute best source of knowledge is a local, professional mountain bike guide. Mountain bike guides can help you progress, choose trails that match your ability best and link up trails depending on how you are feeling. Good, local guides are well worth it!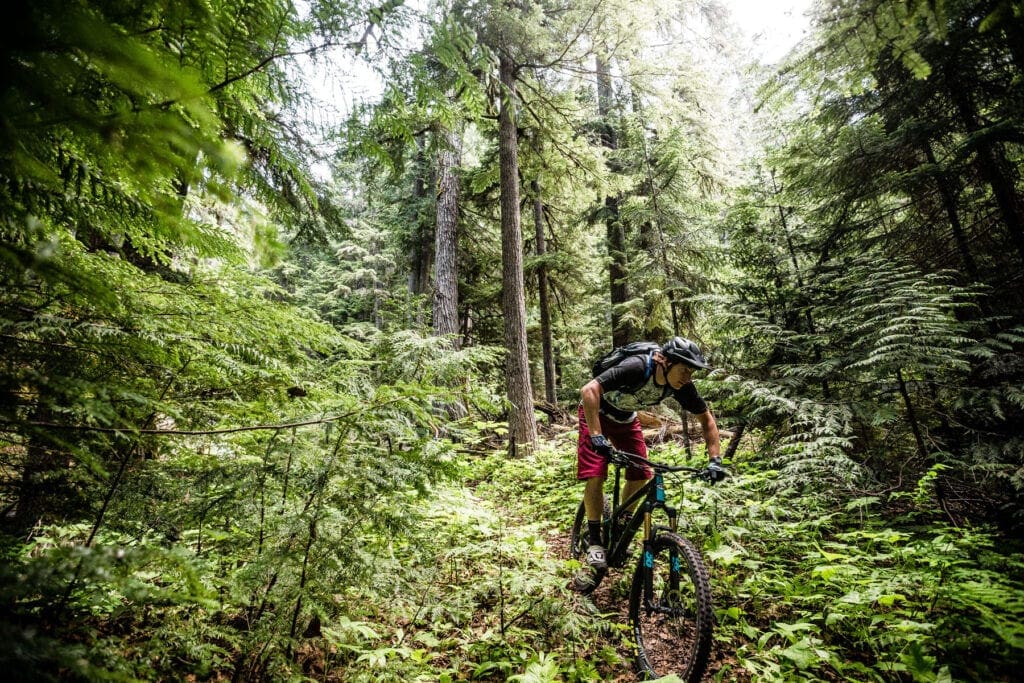 Here is our guide for beginner mountain bikers in Whistler:
What to wear/bring for beginner mountain biking in Whistler:
Ensure that you have a bike that matches the terrain. A bike that is well suited to trails in less mountainous regions might not be the best for Whistler. The most versatile bike for Whistler is an Enduro/All-Mountain style bike as it can still pedal well and handle the terrain the best.
If you don't have a suitable bike then there are lots of bike rental shops to choose from. Arbutus Routes brings in new bikes each year and will set up the bike for your specific preferences. Renting or demoing bikes first is a great call before committing to purchasing.
Wear athletic clothing that is appropriate for the weather and a flat soled shoe at a minimum. Other items like gloves and cycling shorts are highly recommended for comfort and protection. Sunglasses are also a good call (those that aren't super dark or adjust to the light are best as it is darker when you are in the forest).
Body protection is highly recommended for beginner mountain biking, especially in the Whistler Bike Park We recommend knee, shin and elbow protection as standard.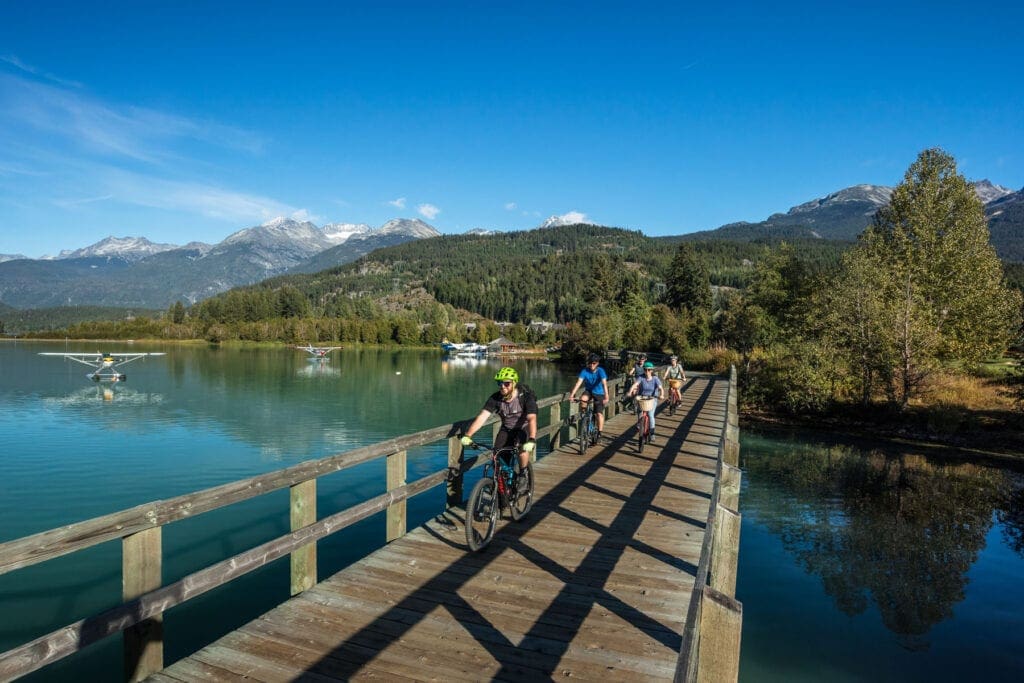 Where is best for beginner mountain biking in Whistler?
Be sure to explore the Valley Trail system. This network is a combination of the paved pathways and crushed gravel trails that link the whole valley and is the best way to experience Whistler beyond the village. Drop by Arbutus Routes or another good bike shop to pick up the trail map and go and explore. At Arbutus Routes we have free maps and can help design a route for you based on the time you have.
Bike trails are rated much like ski runs: green, blue, black and double black. If you would like to go up the chairlift and explore the Whistler Bike Park, there are green (beginner friendly) trails up there that avoid all the big, intimidating features that are seen from the base of the Bike Park. Book a local, professional mountain bike guide to set you up for success.
There are a number of trails and areas in Whistler that are ideal for beginner riders. These areas include Lost Lake, Cheakamus and the lower trails on the Westside of the valley.Visit our store for some friendly advice on which trails to choose.
NB: The trail that is gathering the most attention in town is the new Lord of the Squirrels trail that climbs into the alpine. We do not recommend Lord of the Squirrels as a beginner friendly trail; expect intermediate to advanced terrain and ride times in excess of 5hours.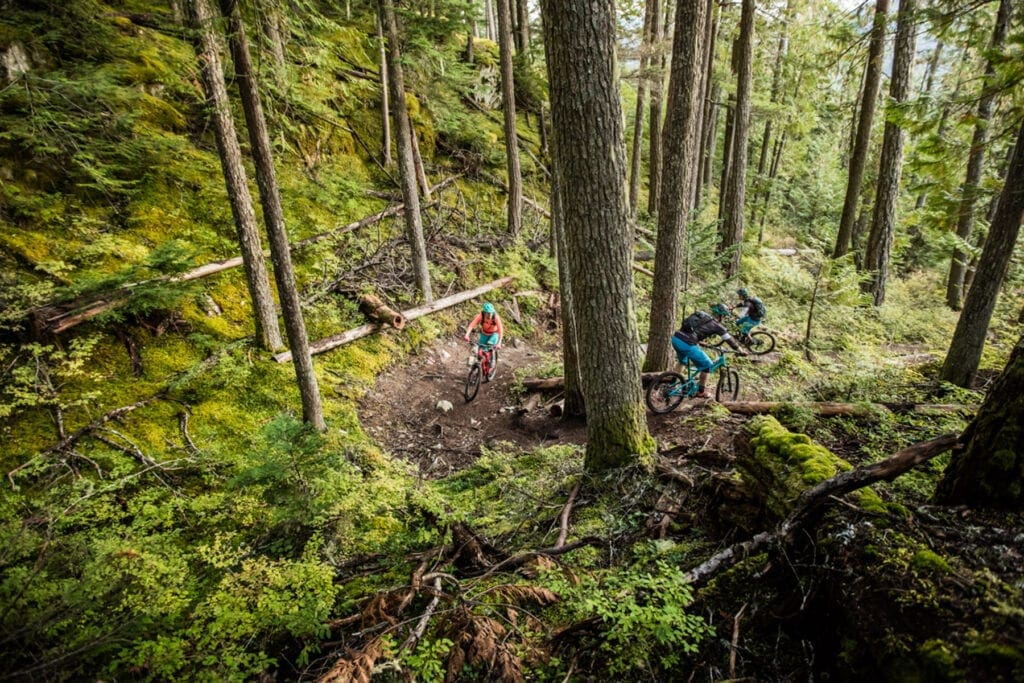 How to ride safely as a beginner mountain biker in Whistler?
Even if your budget stretches to just one session, book a professional mountain bike guide. There are a number of fundamental skills they can teach you that will greatly help your progression. You'll also build good habits from the beginning in terms of body positioning, braking, shifting and trail scanning.
If you choose just to go out with friends, ride with friends that are patient and ideally have more experience than you do to help you along the way.
Practice, practice, practice. The more you can get out on your bike, even if it's a cruise to the lake, the better.
Consider joining your local mountain bike club if you want to meet like-minded people, ride in safe, organised groups and contribute to trail advocacy.
We hope this shows that Whistler is friendly for beginner mountain bikers and our trails stretch well beyond the ones that fill the covers of magazines. The trail network here in Whistler is great for all ages and ability levels.
Whistler is also great for those couples or groups of friends where some people are seasoned riders and want to really push their skill set but want to travel with their beginner mountain biker partners or friends.