We might be in the depths of the winter and ski season, but it's a new year – and there's no better time to look ahead to spring and set some biking goals for the New Year. (I'm not the only one still dreaming of bikes, right?)
Challenge yourself to enter a race or two this season. Maybe you've never tried this Enduro thing. Perhaps you're looking to get fit and to take on one of the many XC races on offer. Already done some of these races? Then set the goal to shave off a bit of time.
You've probably noticed some save the dates already being shared via social media for local events. Now is the perfect time to choose an event or two (or three!). Races sell out quickly, so save the date for sign-up. If you've already missed it, get on the waitlist, and then start getting ready!
Don't be fooled into thinking that goal setting has to be race related. Your goal could be to ride a feature or trail that caught you out last season. Or it could be as simple as keeping up with your buddies. How about making it to the top of that Lord of the Squirrels epic adventure with enough gas in the tank to send it safely on the descent?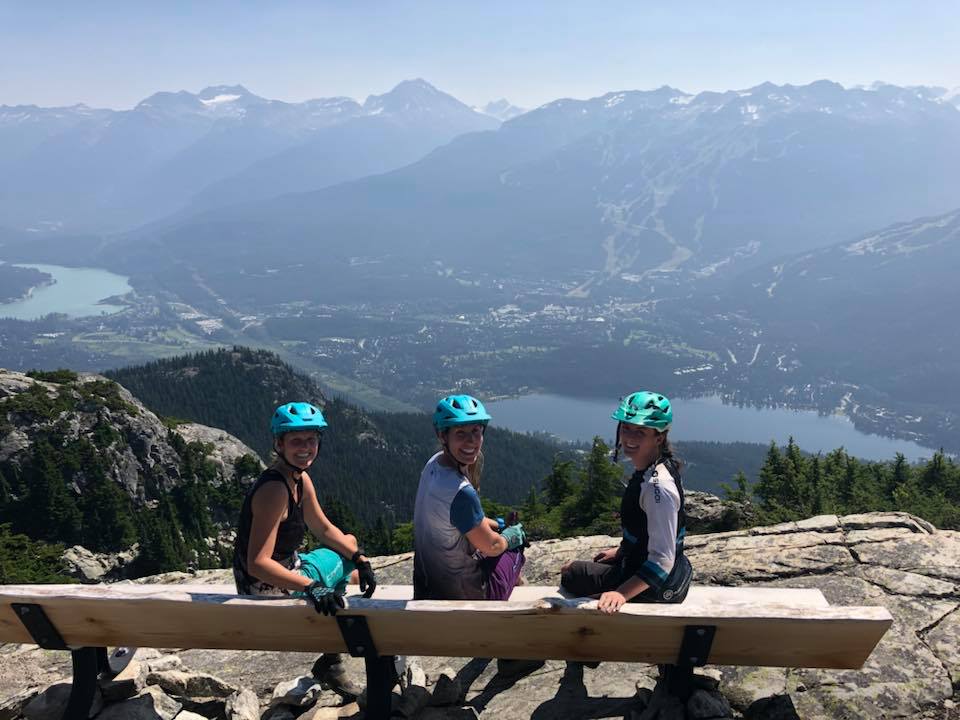 How to reach your Biking goals for the New Year:
Here are some things that help me keep my bike fitness through the winter and ready to take on the New Year.
Keep riding your bike!

Layer up, and go find some bike trails clear of snow! Hop in the car and road trip to places which can be snow-free for most of the winter. I've found great mid-winter biking in Squamish, Vancouver Island, and the Sunshine Coast. Check out Trailforks to scope trail conditions before you go.


Make a plan


Crunch the numbers. No it's not math class. Look up past results for average times in races you want to enter. Ask around to see how long it took your friends to ride that epic loop last year, if that's your goal. If you need to be on your bike for several hours, you're going to need to work up to that length of time in your training rides. You won't feel great on a mega ride if you've only been in the saddle for an hour at a time all season.


Try out a spin class


If you're in need of motivation, I drop into Meadow Park or The Core for a spin. Sign up for classes at cycling specific centers like TAG cycling; they know how to put you in the pain cave. If you try to keep the mileage up over winter, when spring comes you won't feel as far away from being able to meet your goals.

Cross-training


I enjoy activities like cross country skiing and ski touring as a way to get that cardio in. These sports are a fantastic way of keeping /gaining fitness over winter and keep you enjoying the outdoors. You can also throw on some snowshoes or spikes and go for a hike or run.


Strength training


Heading to the gym is the key to feeling strong on steeper trails and shredding those janky features the that the Sea to Sky trails offer. If you don't know where to start, get in touch with a local trainer such as Joel at Blueprint Athlete Development and ask them to help you with a basic program to follow before biking ramps up again.


Skills Training


If your fitness is great, but your skills need help, look into taking a lesson or clinic. The team at Arbutus Routes can help with developing essential trail techniques. Alternatively, websites like RyanLeech.com offer online courses to follow. Find an empty car park and work on those technical skills through the rest of winter! Sign up for coaching early in the season so you have enough time to practice those tips before race day.


Group Rides


Find some like-minded ladies and gents to set up a weekly ride schedule once spring arrives. Whether it's a road ride, downhill intervals or a longer trail ride; practicing with buddies is way more entertaining and motivating. Group activities make you accountable, and you'll be less likely to fall off track of reaching your targets.


Track it


Use training apps like Strava. I love to keep track of my times, mileage and elevation; plus you can watch your progress throughout the year. If you're not into telling the whole Strava world what you've been up to, you can set your data to private. Who doesn't love a little secret training anyways?

Winter training can be challenging, but there's nothing better than hitting the trails in the spring fit and fresh. In the end we all just want to ride our bikes, why let Winter get in the way? What are your Biking goals for the New Year?